The Peoples Democratic Party, the PDP Governors Forum has reaffirmed its determination to remain with the party, irrespective of where the the Supreme Court judgement swing to, on the leadership crisis.
Fayose and some other governor had promised to stay off the party if Sheriff wins at Supreme court.
After a closed door meeting of the governors in Abuja, the chairman of the PDP Governors forum, Governor Ayodele Fayose of Ekiti State said they have resolved not to desert the party, irrespective of who wins at the apex court.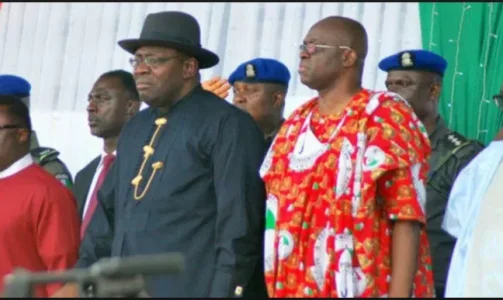 "Despite our challenges we are forging ahead, we are putting in our best and we are hopeful all will end well with the party and our members. Today the party met to further reaffirm our confidence in the PDP, believing that the PDP stays and stands united to win election in 2019.
"We are hopeful that the outcome of the court will further unite the party – there will be no winner, there will be no vanquish. We believe in the PDP and we believe in the tomorrow of this party."
The PDP has in the last two years been factionalised along two lines with some of its members pledging allegiance to the current National Chairman of the party, Senator Ali Modu Sherif.