The Peoples Democratic Party (PDP) has called on President Muhamamdu Buhari-led Federal Government not to sweep under the carpet, the allegation by Justice John Inyang Okoro of the Supreme Court, that the Minister of Transportation, Rotimi Amaechi, approached him to compromise the Akwa Ibom, Rivers and Abia governorship petitions in favour of APC candidates.
The party also called for an inquest into Amaechi's tenure as governor of Rivers State between 2007 and 2015.
Justice Okoro, in a letter addressed to the Chief Justice of Nigeria, Justice Mahmud Mohammed, alleged that Amaechi and the All Progressives Congress (APC) governorship candidate for Akwa Ibom State, Umana Umana, promised to pay him millions of naira as monthly allowance if he could tilt the cause of justice in favour of the APC candidate.
The apex court justice believes that his present travails in the hands of the Department of State Services (DSS) was in connection with the verbal report he made to the CJN regarding the visits made to him by Amaechi and Umana.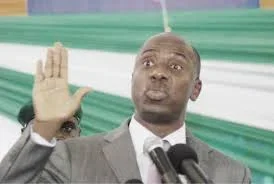 "My Lord, I strongly believe that this my travail is not unconnected with the verbal report I made to you on 1st, February, 2016, about the visit to my official residence by Rotimi Amaechi, former governor of Rivers State and now minister of transportation.
"In that report, I told you, My Lord, that Mr. Amaechi said that the president of Nigeria and the All Progressives Congress (APC) mandated him to inform me that they must win their election appeals in respect of Rivers State, Akwa Ibom State and Abia State at all costs".
The party said: "this allegation is grievous, dangerous, criminal and unhealthy for our democracy and the rule of law.
"This information by a high ranking judge must not be swept under the carpet like previous petitions and the report of the Rivers State Judiciary Commission of Inquiry that revealed so many misappropriations of funds by the former governor when he held sway from 2007 to 2015," the statement warned.
PDP called on the President Muhammadu Buhari to as a matter of urgency, investigate this allegation levelled against his Minister and Umana, and bring the alleged perpetrators to justice.
[2645]