✅ NEW - get your business listed and your information shared across social media.
Barr. Bashir Maidugu, Deputy National Legal Adviser of the Peoples Democratic Party (PDP), yesterday, debunked reports that there are factions in the party.
Maidugu said, there are only 'camps' not 'factions' in the opposition party, PDP.
While speaking with DailyTrust, Maidugu, who admitted that there are differences within the PDP leadership, said it was erroneous to say the party had split into factions.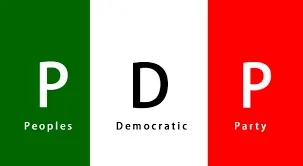 He was reacting to the report;
Nigeria's Arms Deal Scandal Tears PDP into 4 Factions.
"Yes, there are camps in the PDP because of some issues but not factions. When you say factions, it means each group is seeking for recognition, or wants to form a different party and this is not the problem," Maidugu said. "What we are trying to do is to ensure sanity, rule of law and transparency in the party, and once these things are addressed, all these camps will automatically collapse into one camp. Nobody is saying he wants to put on a different party," he said.