✅ NEW - get your business listed and your information shared across social media.
The Nigerian Senate minority leader, Godswill Akpabio, on Tuesday described Peace Corps of Nigeria as the Mavrodi Mondial Moneybox (MMM) scheme, which can be liken to "419".
Senator Akpabio, while contributing to a debate on the peace corps of Nigeria bill at plenary, said the upper legislative chamber could not afford to pass the bill given the issues surrounding the peace corps.
He argued that if the senate passed the bill, it was "going to legitimise illegitimacy" and it would be like giving a legal backing to
"Honestly speaking my submission will be to support the earlier speakers, it is better for us to tread on the part of caution, when you talk about para-military organisation, we may be adding to insecurity in the nation vetting and other things have to be done before we start putting uniform on people and giving ranks," Akpabio told his colleagues.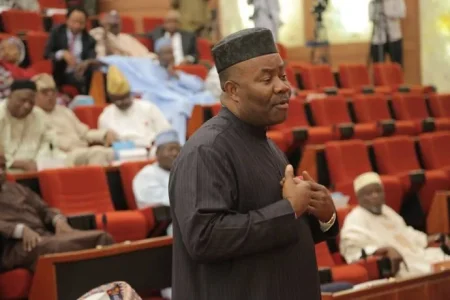 "It is also almost like our government to make a law on MMM where youth have been taken advantage of and people have lost money, millions of naira and then someone brings a law to legitimise MMM which we know is a fraud.
"Some of them are field marshals and they have not gone to any war, many of them are lieutenant-generals, I have seen some saluting as brigadier-generals, I have seen them in public occasions where the youth use their clothes to clean the seats for the commandant-general.
"This thing is 419. We cannot make a law for an individual to collect millions of naira."
The former governor of Akwa Ibom state said if anyone sought to help the youth he or she could do that through a foundation that did not necessarily need the laws to back it.