Nigerian Senate on Wednesday passed the petroleum industry bill (PIB) for its second reading.
The Bill, seeks to split the Nigeria National Petroleum Corporation (NNPC) into two independent entities, passed the stage, and was referred to the committee on petroleum (upstream and downstream) for more legislative work after a brief debate on it.
Here are 7 things you need to know about the Bill:
1. It creates an efficient and effective governing institution with clear and separate rules for the petroleum industry.
2. it establishes a framework for the creation of commercial oriented and profit driven petroleum entities that ensures value addition and internationalisation of the petroleum industry.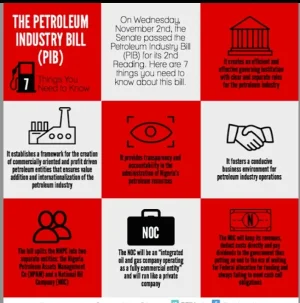 3. It provides transparency and accountability in the administration of Nigeria's petroulem resources.
4. It fosters a conducive business environment for petroleum industry operations.
5. The bill splits the NNPC into two separate entities: the Nigeria petroleum assets management Co (NPAN) and a National Oil Company (NOC).
6. The NOC will be an "integrated oil and gas company" operating as a fully commercial entity and will run like a private company.
7. The NOC will keep it revenues, deduct costs directly and pay dividends to the government that putting an end to the ear of waiting for Federal government for funding and always failing to meet cash call obligations.
[2519]