✅ NEW - get your business listed and your information shared across social media.
PREMIUM TIMES has an exclusive on Bukola Saraki's asset declaration in 2003.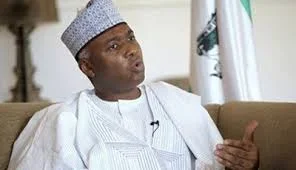 The President of the Nigerian Senate, Bukola Saraki, currently facing corruption charges, was worth N10 billion (by current exchange rate) at the time he assumed office as governor of Kwara State in 2003.
While his entire assets, including cash, landed properties and shares in Nigeria and abroad stood at about N8 billion, those of his wife totalled N1.8 billion and his four children N202 million.
These are contained in the asset declaration form and the affidavit Mr. Saraki deposed to before an Ilorin High Court and submitted to the Code of Conduct Bureau on September 16, 2003. The document entitled "Form CCB 1: Asset Declaration Form for Public Officers," was exclusively obtained by PREMIUM TIMES.
Mr. Saraki was on September 18 this year docked at the Code of Conduct Tribunal on a 13-count charge bordering on alleged corruption and false declaration of assets.
He was specifically accused of deliberately manipulating the asset declaration form he submitted prior to his assumption of his current position as senate president. Although he pleaded not guilty to the charges, claiming his ordeal was politically motivated, the CCT adjourned the case to October 21, 22 and 23 for further hearing.
His wife had earlier been invited by the Economic and Financial Crimes Commission over alleged complicity in shady contract deals during her husband's tenure as governor between 2003 and 2011. The assets declaration form showed that Mr. Saraki, who was a little over 40 years at the time he assumed office, had only N2.5 million cash at hand and a total of N51 million in various Nigerian banks at the time he filed the document.
He was also worth a total of £2.9 million and $400,000 lodged in some foreign banks at the time. That was besides owning landed and movable assets running into billions of naira and pound sterling in Nigeria and London. He also held a substantial number of shares in a number of local and foreign companies valued at millions of naira and pounds.
Mr. Saraki said while he had N11,050,000 in the defunct Societe Generale Bank, where his family had interest, he had N350,000, N3 million and N390,000 in EcoBank, Guaranty Trust Bank and the defunct Citizen Bank, respectively, all in Lagos. Besides, one of Mr. Saraki's companies – Better Foods Ltd – had N600,000 and N23 million in Citizen Bank, Broad Street, Lagos and Societe Generale Bank, Oke Arin Street, Lagos, respectively.
Click here to read more
SOURCE: PREMIUM TIMES