✅ NEW - car park, swimming pool, 24 hours light/security and more.
Nigeria's presidency has finally reacted to the senate's failure to confirm Ibrahim Magu as substantive chairman of Economic and Financial Crimes Commission (EFCC).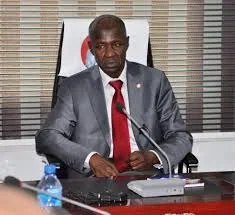 Chairman of the Presidential Advisory Committee Against Corruption, Itse Sagay claimed that the Senate refused to confirm Magu because he is 'too good.'
Sagay said the senators feel threatened by Magu's commitment to the job, hence their second rejection of his nomination.
In an interview with The Nation, Sagay said that Magu is a "man of integrity" who is "just too good for the job".
He said, "They know that Magu has been outstanding in the fight against corruption, and that his achievements have simply been extremely praiseworthy. He's been consistent; he's committed. He's a man of high integrity and his productivity has been high.
"The only reason they will refuse to confirm him is that they decided to be perverse on this occasion for reasons best known to them. Probably it's known to everybody.
"Maybe it's because he's just too good for the job, and a lot of people are uncomfortable with people like that who are committed and determined to root out corruption from the country. That's what it is."