✅ NEW - car park, swimming pool, 24 hours light/security and more.
President Muhammadu Buhari has written to the National Assembly asking them to approve a foreign loan of $29.960 billion to address infrastructure deficit in the country.
The amount, which is under the government's External Borrowing Plan, is to be spent on power, railway, roads, education, health, water resources among others.
The request was sent via a letter the president sent to the Senate President Bukola Saraki and Speaker of the House of Representatives Yakubu Dogara.
The letter was read at plenary in the House of Representatives yesterday but it was yet to be read in the Senate.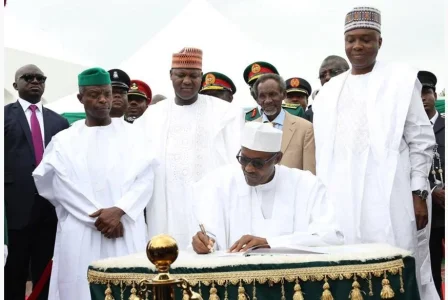 The money is made up of projects and programmes loan of $11.274 billion; Special National Infrastructure projects $10.686 billion; Euro Bonds of $4.5 billion and Federal Government Budget Support of $3.5 billion.
The president added that the World Bank had provided a loan of $125 million to the FG to procure vaccines and other ancillary facilities to stop polio, and also provided $450 million to assist in the reconstruction and rehabilitation of the Northeast.
He said some of the borrowed funds would be allocated to the Northeast to cater for polio eradication and routine immunization, $125m; community and social development project, $75m; Nigeria States Health Programme Investment Project, $125m; State Education Programme Investment Project, $100m; Nigeria Youth Employment and Social Support Project, $100m and Fadama III Project, $50m.