✅ NEW - get your business listed and your information shared across social media.
Primate Elijah Babatunde Ayodele, General Overseer of Inri Evangelical Spiritual Church, Oke-Afa, Lagos has released some very troubling prophecies.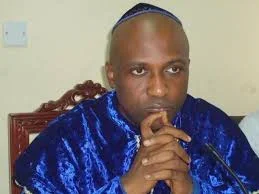 Speaking to Sun Newspaper, Primate Ayodele said, "Already we are working towards breaking up and I tell you, it's only prayers that can prevent Nigeria from breaking up in 2043. Mark my words.
"Whether the powers that be want it or not, I foresee a very big referendum coming, in which all issues troubling the soul of Nigeria would be tackled. This referendum would decide along three main lines among others, on the dire need for us to have true federalism, return to regionalism which thrived and facilitated progress shortly after the colonial masters left or lead us into a breakup.
"The APC should beware of a crack in the party that would tear it into three factions.
"If care is not taken and the PDP fails to properly reconcile their warring factions, the Supreme Court judgment may favour Ali Modu Sheriff.
"The northern arm of the APC Governorship Forum may break. President Buhari may not have the capacity to contest in 2019 while there would be so many candidates contesting. We should even be very prayerful for him to complete his first term.
''We need prayers so that democracy would not cause problems in Nigeria. The military should beware and strategize against some serious bombing of strategic places in the country. We have predicted the rancor rocking the NASS, but I want to say that the current trouble in the Assembly is not over as there are more crises ahead in the two legislative houses.
"A lot of unprecedented political chaos, scheming, machinations and manipulations would play out in the 2019 general elections.