Aisha Jummai Al-Hassan is Nigerian politician and one time Senator of Taraba North constituency of Taraba State, position she won under the platform of the People's Democratic Party (PDP)
Aisha Jummai Al-Hassan is a fulani. A lawyer by training, became the first female to be appointed Taraba State Attorney General and Commissioner of Justice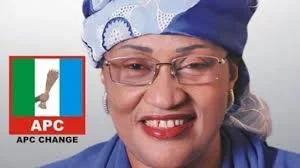 She was first woman to be appointed as Secretary FCT judicial council and later appointed the Chief Registrar of the High Court of the Federal Capital Territory, Abuja
She is an ardent supporter of the Taraba State Football Association
She contested for the Gubernatorial election of Taraba state in April 2015, narrowly defeated by the PDP candidate and later regained her mandate through the election petition tribunal.
She is currently a Minister-designate of President Mohammadu Buhari's led administration, screened and confirmed by the Senate.
Mrs. Alhassan will be Nigeria's first female governor if Mr. Ishaku fails to challenge the ruling, or loses the appeal.
Last edited:
[5155]