✅ NEW - car park, swimming pool, 24 hours light/security and more.
Barely five days to Sallah, rams and cattle dealers at the Sokoto's Kara livestock market are complaining of low patronage.
Chairman, Sokoto Ram Sellers Association, Alhaji Abubakar Buba Gaya, said compared to last year, the dealers are recording poor sales this year.
The chairman, who has spent 37 years in ram business, attributed the poor patronage to economic downturn. "Last year was far better because around this time, we had buyers all over the market. A dealer sold 30 to 40 big rams on a daily basis. But this year, we hardly sell 10 rams daily", he said.
He said an average ram cost between N30,000 and N50,000 while bigger ones go for around N160,000 to N200,000.
The chairman said despite the economic hardship, the ram prices are higher this year.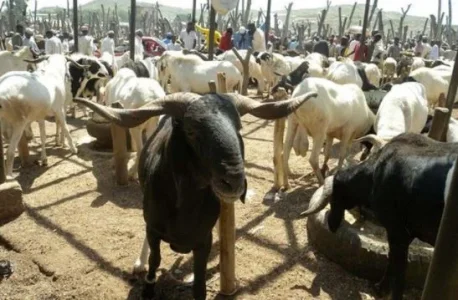 He said members of the association need support from government to boost their business
Also, ram sellers in various markets in Ibadan on Friday decried low patronage, barely a week to the Eid-el-Kabir celebrations.
A correspondent of the News Agency of Nigeria (NAN), who visited many markets in the area, reports that ram sellers were seen discussing the development.
At Temidire 30-30 in Bodija, Akinyele, Liberty road and Mokola, rams were seen in various sizes tied to stomps with no buyers in sight.
Last edited by a moderator: