✅ NEW - car park, swimming pool, 24 hours light/security and more.
Super Eagles coach Stephen Keshi has revealed that he invited Ikechukwu Uche back to the national team but the player turned him down.
Uche last played for Nigeria at the 2013 African Nations Cup tournament in South Africa,before he fell out with Keshi for allegedly trying to sabotage the coach.
But the Villarreal FC striker has been in top form since then in the Spanish La Liga,with many clamouring for his return to the national team.
Speaking to the media on Wednesday,an angry Keshi said that he no longer wants to be answering questions about Ik Uche.
"I don't want to talk about the issue of Ikechukwu Uche again and I don't want anybody to ask me about him again," Keshi said.
"Before [last month's] game against Congo, I did the list. I didn't even want to do the list because I never knew I would come back to handle the team. I told them I am not the coach that [the NFF] should do the list but they said no, I should please do the list.
"I did the list and Ikechukwu Uche's name was on the 25 man list I did. He (Ike Uche) didn't even know about it because I did not tell him. Uche then called me four days later and said "Coach how are you? and I said boy it is good to hear your voice." We just spoke like brothers and that was it.
"I then told [Team] Secretary, Dayo Enebi, to ask if the players have South African visas and the ones that don't have he should take their passports ahead of time to process their visas.
"He then asked Ikechukwu Uche and Uche said why is he asking him and why was he asking for his international passport.
"I hate to speak without Uche not being here or if you want to call him put him on speaker to know who is telling lies or not. And please nobody should ask me about Uche again.
"Uche said he needs somebody to talk to him about something they said about him as being a bad kid and they said he did something wrong.
"Then I said okay [Dayo Enebi] take his name out. I am not going to beg Uche and I am not going to tell Daniel [Amokachi] to beg Uche, for what?
"We have played for this country for over 20 years and nobody ever begged us to play for the country. We are the ones always begging to play.
"So please let this be the end today. Don't ask me about Uche. We have Obafemi Martins and others (doing well) and nobody is making fuss about not being invited.
"What is wrong with him? Why do people want to tear this team apart," Keshi asked.
Both Keshi and Uche appears to have an irreparable difference between them,and it is looking likely that the 30-year old striker might no longer play for Nigeria if Keshi remains as coach,unless they each find a truce.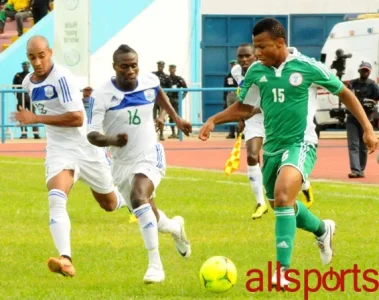 Last edited by a moderator: