The current Ebola outbreak is getting worse and out of hand as time progresses. People who flew on a plane with a Texas nurse on the day before she came down with symptoms of Ebola are being tracked down by public health officials.
Public fear, panic and anxiety levels are starting to rise following news of how the virus keeps spreading despite efforts to be rid of it.
A woman was photographed at Washington Dulles airport wearing a full hazardous materials suit and sights of a group of family wearing eye googles and hand gloves are starting to be a normal occurrence at airports.
But what are the chances of catching the virus from another airline passenger? How worried should they be about catching the deadly disease?
According to William Schaffner, an infectious diseases specialist at Vanderbilt University School of Medicine, "the risk is essentially zero."
Likewise, the CDC says the risk to "any around that individual on the plane would have been extremely low".
This is because the virus is not airborne like flu. Anyone on the same flight as a patient would not be at risk from breathing in the same cabin air.
And it's extremely unlikely that someone would catch Ebola from an armrest, a touch-screen television, or a tray, says Schaffner.
How not to catch Ebola:
Avoid direct contact with sick patients as the virus is spread through contaminated body fluids
Wear goggles to protect eyes
Clothing and clinical waste should be incinerated and any medical equipment that needs to be kept should be decontaminated
People who recover from Ebola should abstain from sex or use condoms for three months.
#Ebola #BBC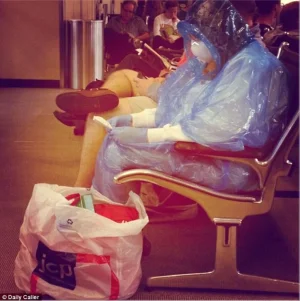 Pic credit: Daily Caller