✅ NEW - get your business listed and your information shared across social media.
SaharaReporters
gathered that Senate President Bukola Saraki blackmailed officials of the Central Bank of Nigeria (CBN) to hand him N250 million as "hush" funds after the senator had found out that ex-President Goodluck Jonathan had illicitly approved N60 billion for the former National Security Advisor (NSA), Sambo Dasuki, to purchase "arms."
A source, who is a senior CBN official, disclosed that bank officials paid the sum to Mr. Saraki, who was not the Senate President at the time, to ensure that he and other senators kept silent about the irregular withdrawals by the NSA and the Jonathan administration.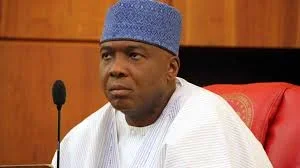 It also revealed that some officials of the Central Bank of Nigeria had quietly resisted several attempts by officials of the Jonathan administration to carry out large-scale theft of funds from the national treasury in the name of fighting Islamist insurgent group, Boko Haram insurgents.
A CBN whistleblower made available to SaharaReporters a hurriedly typewritten document that detailed how ex-NSA, Mr. Dasuki, requested tranches of dollars from the bank after obtaining approval from former President Jonathan between February and March this year.
Read more details on Sahara Reporters