Again, our attention has been drawn to a publication by Premium Times which unethically alleges without any proof, reference, attribution or justification that the Senate President, Dr. Abubakar Bukola Saraki, was involved in receiving or sharing any unauthorized funds.
The article, entitled "EXCLUSIVE: Minister Adeosun, Saraki, Dogara, Accountant General in N10 billion fraud scandal", in both its style, substance, and deliberate spin struggles to connect the Senate President to the receipt and apportioning of funds which the publication describes as "illegal."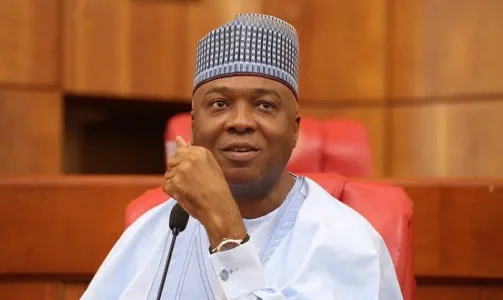 In the absence of any doubt, the Senate President has nothing to do with any payment, receipt or disbursement of any extra-budgetary funds.
It is also important to state for the record that the Premium Times article in question is pure and unmitigated false news. A simple check by Premium Times would have revealed that all funds in the National Assembly are in the custody of the National Assembly Management, which is headed by the Clerk, and not its presiding officers.
Additionally, all contract awards are equally overseen by the National Assembly management, not the presiding officers.
We are aware that for some weeks now, Premium Times has had this story. However, they only contacted us on Wednesday, and the Clerk of the National Assembly, after a phone call from the Special Adviser on Media & Publicity to the Senate President, promised to give them all necessary explanation and documents on this issue.
However, it is obvious that in the bid to rope in Senator Saraki, the reporters of Premium Times could not wait to see the Clerk and rushed to publish the story with outright falsehoods less than 24 hours after the clerk made the aforementioned promise.
We are surprised that without any proof whatsoever, Premium Times was using expressions like: "Senate President Bukola Saraki and Speaker of the House of Representatives, Yakubu Dogara, have just illegally received and shared"; "Saraki and Dogara submitted"; and "Investigations by PREMIUM TIMES showed that at least 44 of the 82 contractors Messrs Saraki and Dogara…" These are highly defamatory and careless expressions.
It is expected, that the Editors of Premium Times will not be ignorant of the internal procurement and payment process in an organization like the National Assembly that they have covered and "investigated" for as long as they (Premium Times) has been in existence.
We consider this as part of the orchestrated campaign of calumny being waged against Dr. Saraki by some political elements using media platforms in which they have interests.
In this regard, for this careless and unwarranted assault on the person of the Senate President — after several previous warnings — the lawyers of the Senate President, Dr. Abubakar Bukola Saraki, will be initiating legal action on this particular matter.
Finally, we ask the public to disregard the Premium Times piece, and take it for what it is, and will continue to be: "Fake News."
END
Signed:
Yusuph Olaniyonu
Special Adviser on Media & Publicity to the President of the Senate
[27266]