The trial of Senate President, Dr. Bukola Abubakar Saraki, over alleged false and anticipatory assets declaration continues today before the chairman of the Code of Conduct Tribunal (CCT), Danladi Umar.
At the last sitting October 5, the tribunal dismissed an application by Saraki asking the Chairman of the Tribunal to disqualify himself from hearing his trial.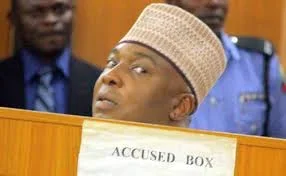 Late last month, the Court of Appeal sitting in Abuja also struck out an application filed by the embattled Senate President challenging the jurisdiction of the CCT to entertain the charges against him.
The trial today is expected to continue with the cross-examination of the first prosecution witness, Michael Wetkast, an operative of the Economic and Financial Crimes Commission (EFCC).
[627]