✅ NEW - car park, swimming pool, 24 hours light/security and more.
Nigerian Senate on Wednesday morning entered into a closed door session on the Attorney General of the Federation's letter that the Chamber to stay action on the invitation of the Customs CG to appear in Uniform.
Feelers believed the Upper Chamber may decide whether or not to honor AGF Malami 's letter on Hameed Ali's case over wearing of uniform to the Senate.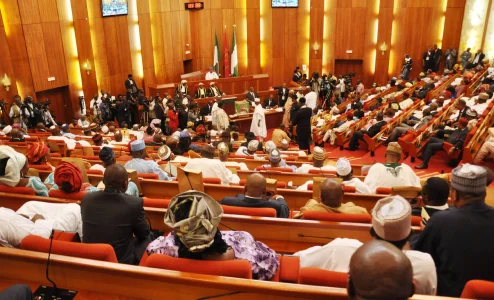 Nigeria's Attorney-General of the Federation and Minister of Justice, Abubakar Malami on Tuesday wrote to the Senate, urging it to suspend its invitation to the Customs chief Hameed Ali.
Ali also said he will not be honouring Senate's invitation today owing to a pending court case on the matter.
"Somebody has sued us. It is subjudice. I have got my writ of summons and they said status quo ante should remain, which means nothing should move until the court makes a pronouncement," he said on Tuesday.
More to come...