Senator Abaribe Enyannaya representing Abia south senatorial district on Wednesday mocked his colleague Senator Dino Melaye over certificate scandal.
In what looks like a soft jab, the Senator said Dino Melaye is yet to show him his certificates while contributing on the issues of non- appearance of Customs at the Upper Chamber.
He, thereafter, said though he is aware that no single person can come to the Senate with a certificate.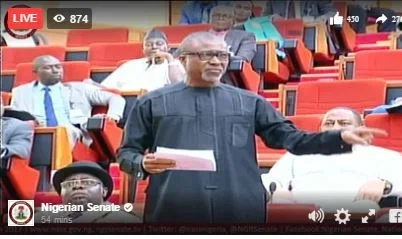 On the Customs Comptroller General saga, the Abia senator said: "Lest we forget Customs Boss, Hameed Ali made an obnoxious policy, it was in this process that we invited him to explain his policy.
He stated that it makes no sense for the CG @CustomsNG to rush to court to secure a deliberate injunction over his invitation by the Nigerian Senate.
He urged the Senate to reject the letter written by the Attorney general of the Federation.