Ex-leader of the Movement of the Nigeri-Delta (MEND), High Chief Government Ekpemupolo (alias Tompolo) has replied to the allegation that he purchased seven warships from the Norwegian government, and has asked those tarnishing his image to stop immediately.
Speaking through Comrade Paul Bebenimibo, his spokesman, Tompolo said there was no truth whatsoever in the rumors:
"I am not surprised that this blackmail is coming at this crucial time that Nigeria is facing serious security challenges even as the most decisive moment for the nation, which is the 2015 election closes in.
"For one, the initial reaction was to just ignore this cheap blackmail and forge ahead with personal commitments but the propensity with which these lies are daily peddled requires that a bit of clarifications is given to the Nigerian public.
"Clearly, the intent of those behind the malicious media report is to weigh me down, paint me as someone with the desire to wage war against the Nigerian state by painting a picture of an arms build-up in the Niger Delta as 2015 approaches.
"On the issue relating to the alleged purchase of war boats, it smacks of ignorance on the part of those who have taken an ignoble delight to embark on this despicable path; it is pertinent for the ignorance of those behind this blackmail to be exposed.
"The truth is that these boats in question have been in the care of NIMASA for about two years now. For the avoidance of doubts, the boats are not warships or gunboats as being erroneously spread by mischief makers.
"The boats as acquired are neither equipped with war arsenals nor are they ammunition carriers. They are simply boats equipped with modern surveillance devices to track oil thieves and in the process, increase the nation's revenue base through NIMASA.
"Similarly, Tompolo is not in charge of the said boats as upon acquisition, the boats were handed over to NIMASA which in turn involved the Nigerian Navy in their usage and operations.
"Perhaps, it is apt to say that this latest blackmail could not have come from any quarter other than some Niger Delta politicians whose desire to enslave others has not only failed but backfired. The masterminds of this cannot cow me to withdraw my support for President Goodluck Jonathan.
"For the avoidance of doubt, Nigerians and indeed the Nigerian media can do the nation a big favour by contacting the Norwegian Embassy for more details on the boats in question", Bebenimibo concluded.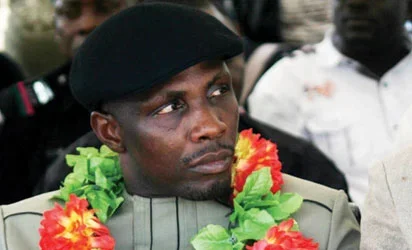 [1685]