✅ NEW - get your business listed and your information shared across social media.
Popular Islamic cleric, Sheikh Ahmad Gumi is opposing the recent calls for reforms in Northern Nigeria made by the Emir of Kano, Muhammadu Sanusi II.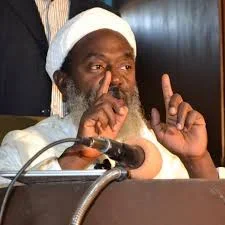 In an interview with VANGUARD, Sheikh talked about early marriage in the North and the Emir's call to prevent poor men from marrying multiple wives.
He said, ''I have been following some pronouncements by the Emir of Kano of recent that border on Islamic religion and culture. What I will say is that Islamic position on issues is well entrenched in Islamic literature.
''This book here, The Message, is more than one thousand years old. In it, every subject on Islamic law is discussed. I want the Emir and others to put their minds at rest. Nobody can interpret or change Islamic law. What we need to change is the environment so that people find it conducive.''
''When it comes to marriage, what Islam says is that whoever has power to marry should marry. Islam does not allow a society where there is prostitution. Since Islam proscribes prostitution, adultery and fornication, the moment a girl becomes mature biologically, Islam opens the door that if you want to marry, then marry. But if you bring a law that says a girl should not marry until when she gets to eighteen years, I tell you, at the age of sixteen, a girl begins to have sexual desire which will be pushing her like fire.
''In Islam, you do not give out a girl in marriage except when you ask her permission. So if the girl is ready to marry, she should marry. It does not affect her education or social life. You can still be married and be going to school.''
''There are unmarried women in millions who are jobless. If you say 'this man, you are poor, don't marry her', he stays poor and does not marry her, while she is still struggling, she is in a worse situation than if she marries the man.
''What these poor men do is a social service to the society because poor men have more wives than rich men. These women are not there redundant. Each woman is doing something, maintaining herself but under the umbrella of a man who makes sure that she does not become a prostitute.''