Kaduna State Governor, Malam Nasir el-Rufai inaugurated the Judicial Commission of Inquiry on the Shi'ites-Army clash in Zaria on Friday, January 29 at the Sir Kashim Ibrahim House.
The Commission is being chaired by Justice Mohammed Lawal Garba, the presiding justice of the Port Harcourt Division of the Court of Appeal. The commission has twelve Commissioners that include:
1. Prof. Salihu Shehu - Commissioner. Professor Shehu lectures at the Bayero University, Kano.
2. Prof. Umar Labdo – Commissioner. Professor Labdo teaches in the Faculty of Humanities, Northwest University, Kano.
3. Malam Salihu Abubakar – Commissioner. Malam Abubakar is a former director of the National Agricultural Extension and Research Liaison Services (NAERLS), Ahmadu Bello University, Zaria.
4. Prof. Auwalu Yadudu – Commissioner. He is an accomplished professor of Law, and former Special Adviser on Legal Matters during the Abacha government.
5. Prof. Ibrahim Gambari – Commissioner. Professor Gambari is a former minister of Foreign Affairs. He was also Under-Secretary-General of the United Nations, and headed the UN department of Political Affairs. He is often consulted on African Affairs, Peacekeeping and Global Security.
6. Mr. Afakirya Gadzama – Commissioner. Mr. Gadzama, a career intelligence professional, is a former Director-General of the Department of State Services, where he served in various positions, including as Kaduna State director of the agency.
7. Brig-Gen. Aminun-Kano Maude (rtd) – Commissioner. General Maude is a retired Deputy Director, Army Finance and Accounts. He holds a Ph.D in Accountancy.
8. Dr. Jibrin Ibrahim – Commissioner. Dr. Ibrahim is a well-known civil society leader and columnist. He taught politics at the Ahmadu Bello University, and has researched and written about religion.
9. Mrs. Khadijah Hawaja Gambo – Commissioner. Mrs. Gambo is a gender rights activist, social entrepreneur and conflict resolution expert active in Plateau and neighbouring states. She is fluent in Arabic.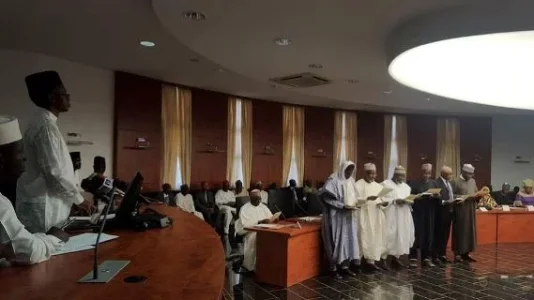 10. Mr. Bilya Bala – Commissioner. Mr. Bala is an accomplished banker and journalist. He is currently editor-in-chief of the People's Daily newspaper.
11. Maj-Gen Alexander Anjili Mshelbwala – Commissioner. General Mshelbwala is a retired infantry general knowledgeable in civil-military relations and counter-insurgency. He was former Military Secretary of the Nigerian Army.
12. Mrs. Desire Deseye Nsirim CP (Rtd.) – Commissioner. Mrs. Nsirim was a distinguished police officer. She retired after being the commissioner of police of Niger State.
Dr. Bala Babaji, Director of the Centre for Islamic Legal Studies, Ahmadu Bello University, Zaria is to serve as Secretary to the Commission. He is to be assisted by a secretariat with experts drawn from academia, civil society and the public service of the state and the Federation.
The counsel to the commission is Malam Yusuf Ali, a Senior Advocate of Nigeria, a chartered arbitrator and a member of the Body of Benchers.
[1752]