Snakes and other reptiles are threatening to take over the Abuja University of Technology, Abaji (AUTA), a visit to the expansive site of the institution, which is about 90 percent completed, has shown, DailyTrust gathered.
Weeds have grown all over the new university buildings, making it a habitat for reptiles, especially snakes, lizards and rodents among others.
Cobwebs spiral the ceilings and the windows of the beautifully built university structures, while the coat of paint is already peeling off in some parts of the buildings.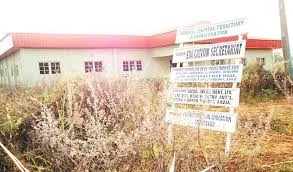 Former minister of the Federal Capital Territory (FCT), Senator Bala Mohammed, conceived the idea of establishing the university after several pleas from the Ona of Abaji/Chairman of the FCT Council of Chiefs, Alhaji Adamu Yunusa.
Since its initial take off date of December 8th 2011 for the 2011/2012 academic session, the university has gone through several other failed take off dates.
The school is established to, among other measures, increase the number of FCT students admitted into tertiary institutions.
"Only about 5% of FCT students get admission into higher institutions.
Read full report on
Daily Trust