✅ NEW - car park, swimming pool, 24 hours light/security and more.
Ex International Henry Nwosu is worried about the Super Eagles going back to the Abuja National Stadium to play its home games.
This week,the sports minister Tamuno Danagogo and Stephen Keshi went on an inspection tour of the Abuja Stadium,drawing up insinuations that plans have been perfected for the Super Eagles to start playing there.
Calabar has been hosting the Super Eagles for over two years,but the last home game Nigeria lost to Congo drew up criticisms about the state of the UJ Esuene pitch.
However,Nwosu thinks that pushing the Super Eagles out of Calabar now back to Abuja could jeopardize their chances of qualifying for next year's Nations Cup in Morocco.
There are concerns on the turnout of fans to watch the Super Eagles in Abuja,in contrast to Calabar,and Nwosu believes this could be the decisive factor.
"Every team playing at home enjoy the support of their fans who have come to watch them play," Nwosu told The Punch
"In Calabar, fans always come out en masse to watch the Eagles when they play and this gives Nigeria an edge over their opponents. Moving the team to Abuja where there is no large crowd at the stadium will be like playing to the opponents' strength. It might give them a little advantage over the home team.
"Playing without many fans will mean that the players have to do more. They will have to work a little harder in their games to beat their opponents.
"Having many fans around will motivate the players to win matches."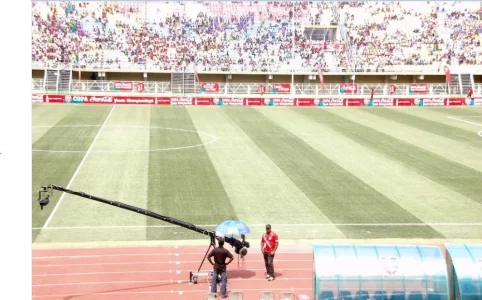 Nigeria will host Sudan for their third game in group A,looking to get maximum points and relaunch its qualification hopes.