✅ NEW - get your business listed and your information shared across social media.
The Economic and Financial Crimes Commission on Friday named Mrs. Folashade Oke as the owner of Flat 7B, No. 13, Osborne Road, Osborne Towers, Ikoyi, Lagos, where the sums of $43,449,947, £27,800 and N23, 218,000 were recently recovered by the Economic and Financial Crimes Commission.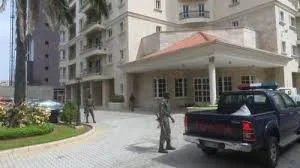 Mrs. Oke is the wife of the suspended Director General of the National Intelligence Agency, Amb. Ayo Oke, whose agency had laid claim to the money.
According to the EFCC, Mrs. Oke made a cash payment of $1.658m for the purchase of the flat between August 25 and September 3, 2015.
She was said to have purchased the property in the name of a company, Chobe Ventures Limited, to which she and her son, Master Ayodele Oke Junior, were directors.
Payment for the purchase of the flat was said to have been made to one Fine and Country Limited.
The EFCC stated that Mrs. Oke made the cash payment in tranches of $700,000, $650,000 and $353,700 to a Bureau de Change company, Sulah Petroleum and Gas Limited, which later converted the sums into N360,000,000 and subsequently paid it to Fine and Country Limited for the purchase of the property.
The EFCC on Friday tendered the receipt issued by Fine and Country Limited to Chobe Ventures Limited as an exhibit before the Federal High Court in Lagos, where it is seeking an order of final forfeiture of the recovered money to the Federal Government.
In an affidavit filed before the court, a Detective Inspector with the EFCC, Mohammed Chiroma, stated that "Chobe Ventures Limited is not into any business but was merely incorporated to retain proceeds of suspected unlawful activities of Mrs. Folashade Oke."
While urging the presiding judge, Justice Muslim Hassan, to order the permanent forfeiture of the funds to the Federal Government, Oyedepo argued that the fact that Flat 7B, Osborne Towers was purchased in a criminal manner, made the N13bn recovered therein "extremely suspicious to be proceeds of unlawful acts."
The lawyer noted that despite the newspaper advertisement of the initial order of April 13, 2017 temporarily forfeiting the money to the Federal Government, no one showed up in court on Friday to show cause why the money should not be permanently forfeited to the Federal Government.
Source: Punch