✅ NEW - get your business listed and your information shared across social media.
A double bombing killed at least 46 people in Syria's Homs on Sunday, as US Secretary of State John Kerry said a provisional deal had been reached on the terms of a ceasefire.
More than 100 people were injured in the twin bomb attacks in the Al-Zahraa district, according to the Britain-based Syrian Observatory for Human Rights monitor.
Syrian state television quoted Homs provincial governor Talal Barazi putting the death toll at 32.
It broadcast footage from the scene of the attack, showing the air thick with dust and smoke rising from blazes started by the blasts.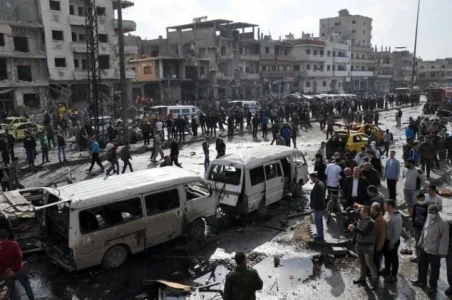 Homs city is almost completely controlled by the Syrian government, and has regularly been targeted in bomb attacks.
Al-Zahraa neighbourhood in particular has been hit multiple times, including a double suicide bombing last month that killed 22 people and was claimed by the Islamic State group.
The residents of Al-Zahraa are mostly Alawites, the minority sect of Syria's ruling clan, including President Bashar al-Assad.
Source: Dailymail UK