✅ NEW - get your business listed and your information shared across social media.
Lionel Messi has arrived at a Barcelona court to take the stand for the first time at his tax fraud trial.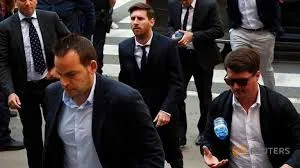 The 28-year-old Barcelona forward wore a black suit and tie as he emerged from a van accompanied by his father Jorge Horacio Messi.
They are accused of using a chain of fake companies in Belize and Uruguay to avoid paying taxes on 4.16m euros (£3.23m) of Messi's income earned through the sale of his image rights from 2007-09.
Dozens of photographers and onlookers crowded behind metal barriers and a line of police that guarded the entrance of the court to catch a glimpse of the five-time Ballon d'Or winner. Most applauded but some jeered and criticised the Argentina international.
Messi and his father will be questioned on Thursday on the third day of the trial, which is expected to end on Friday.
See more pictures below: