✅ NEW - get your business listed and your information shared across social media.
CNN is reporting that U.S Senator Ted Cruz has lost his mind and endorsed Donald Trump.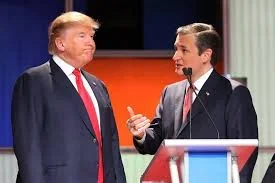 According to the media house, ''It's certainly a surprising move given the two men's personal history. Donald Trump called Cruz a liar, a Canadian, implied that his wife was unattractive and hinted that his father might have been linked to the assassination of Jack Kennedy. Saint Cruz took revenge in his convention speech by withholding an endorsement. It was the highest point in his career. He should've stayed up there.''
Announcing the Endorsement of Trump via Facebook, Cruz wrote, "This election is unlike any other in our nation's history. Like many other voters, I have struggled to determine the right course of action in this general election. After months of careful consideration, of prayer and searching my own conscience, I have decided that on Election Day, I will vote for the Republican nominee, Donald Trump."