✅ NEW - car park, swimming pool, 24 hours light/security and more.
Whoever thought that the ruling All Progressives Congress (APC), exactly five years after its formation five years ago primarily to wrest power from the Peoples Democratic Party (PDP), would find itself in almost similar circumstances as the main opposition party, which at the height of its reign boasted that it would rule Nigeria for 60 years. Today, the APC is facing an existential threat, with its governors as dramatis personae, over the divisions arising from the approval granted by the National Executive Committee (NEC) of the APC to extend the tenure of its elected and appointed officials at all levels.
At heart of the issue threatening to snowball into a full-blown crisis, if not well managed at today's NEC meeting, is the chairmanship post currently occupied by Chief John Odigie-Oyegun. Other executives of the party affected by the push for and against the tenure extension are merely collateral damage. The push for Oyegun to stay on or step down at the expiration of his tenure on June 13, has seen the APC split into three groups with the all-influential and powerful governors, who control the party's structures at the grassroots, leading the charge.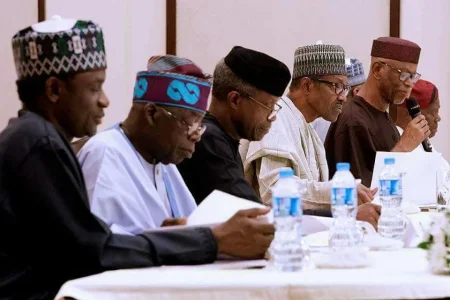 READ MORE HERE