Pelumi Ponmile is a final year student of Fine and Applied Arts at Obafemi Awolowo University, Ile-Ife, Osun State. Ponmile has proven the uniqueness of arts with his recent oil on canvas painting, and most especially the portrait of President Mohammadu Buhari that he painted using pieces of clothes.
Nigerian Bulletin
ran into him at his college, OAU, where he shared his childhood, and the stories behind his creative talent. He is Nigerian Bulletin's Feature on our
Weekend Spotlight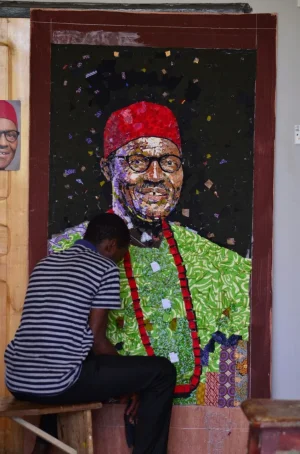 Interview Excerpts Below:
----
Tell us about yourself:
My name is Pelumi Ponmile also known as PP I am a painter and final year student of Obafemi Awolowo University, Ile Ife where I major in painting at the department of Fine Arts.
What do you do and what is Art all about?
I can't really say when and where it all started but I could recall when I was much younger, precisely in Primary two, when I normally draw different things and my colleagues will ask me to help them draw as well. The passion has been right from tender age.
Why Painting, why not other aspects of Fine Arts?
Painting is what I love doing, it gives me pleasure to play with my Brush and canvases.
How did you come about President Buhari's Painting?
President Buhari's painting was my project work. I sat down to realise how to solve a particular problem with my art work and at the same time fulfilled my requirement of being a student at the department of Fine Arts.
My initial thought was to use plastic bottle caps of different colours for the painting so as to reduce environmental hazard of pet bottles but my supervisor advised to find another means because of the stress it would cost me to gather and store pet caps.
Then, moving around daily, I see different people with different colours then I said to my self... "what can I do with these colours", then I turned up another project proposal of painting President Mohammadu Buhari's portrait using pieces of clothes without using a single colour. Then my supervisor accepted. And that's when I started visiting different tailors' workshops to get pieces of clothes for the work.
On getting to them, many of them were astonished saying its strange and how can someone just come and be parking their wastes. Due to the locality of the area, some actually thought of it been fetish but after sighting my school Identity card, they started supplying the pieces of clothes to me with joy and at times, they would have parked it down for me to pick up.
At the end, I got more than enough clothes of different colours from the tailors that would have been a waste or dirt to them. That was how I spent less than N5,000 to finish up my project.
How did you feel after the project and what were the reactions of your colleagues?
At first, seeing the portrait, you will believe its actually colour painting, but when you move closer to it, you will realise its actually clothes with different colours. When my colleagues saw it at far, they thought it was painting with different colours but at closer move to it... they all screamed...wow...it is actually pieces of clothes.
Any comment from the University management?
The school library was marvelled at it because the work was placed at the entrance of the school library. Students were taking pictures of it.
If not pieces of clothes, what would you have used?
I would have gone for oil colour which is quite expensive due to foreign exchange. A single colour can go for as low as N3,000. With this, I thought of using the pieces of clothes to sketch his image to that extent that a blind man will see I say this is President Muhammadu Buhari.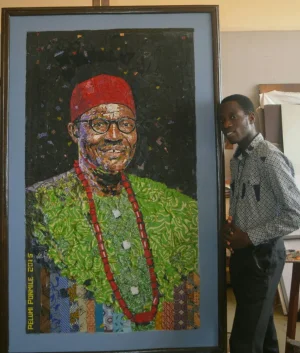 How many colours did you use for the President's sketch image?
I can really say but I have many colours. The major ones are the primary and secondary colours. I have red, yellow, blue with the addition of it giving different colours.
Why did you choose President Mohammadu Buhari? Why not your Head of Department, Vice chancellor or your Project supervisor or yourself?
The beauty of Art work is actually for an outside to point and say –
'this is this person, this is that and him.'
This is this president without stressing his brain and mind. Par adventure, I have used my HOD, the work might just be within the department without going out to the public. Anyone that goes to the library and see the portrait on the wall, can confidently say, this is Buhari. The personality of the image would make people speak more about it.
Pelumi said in Yoruba:
"ahhh, ewo oju re, o gba toju toju, tigo tigo, Buhari gbo do ri eleyin"
, translated to mean
"Buhari must see this, look at his face, his glasses, Buhari must see this". Yes, because they know the subject.
What differentiates your kind of Art, from that of the popular artist, Oregun Olumide?
I cannot really say there is difference between us – art is art any where in the world. Just like Law, We have civil, land, family etc.. same applies to Art. It really depends on what you want and how you can manoeuvre things and with interest. Oregun is someone that pays attention to reality and does that with caution. My own kind of art is oil painting.
If not Arts, what would you have gone for?
When I filled in for Admission, I chose Fine arts as first and second choice. Art is what I love doing and I do it well with attention. If not Art, I don't think I know what I should be doing.
How much do you think the President Buhari portrait would cost you if you were to charge him before painting?
Charges for Art work is not constant. Charges depend on what you want to do and what your client actually wants. I can't really say exact amount for the Buhari's portrait but could be as far more than N500,000 for such portrait sketch.
-----
Some pictures of his works below: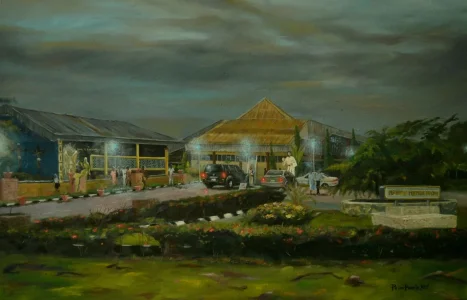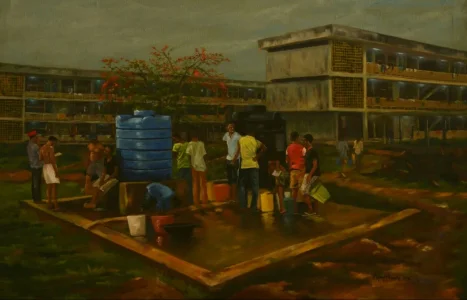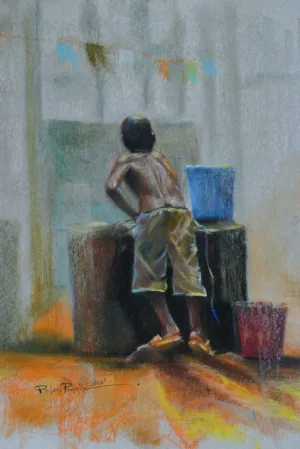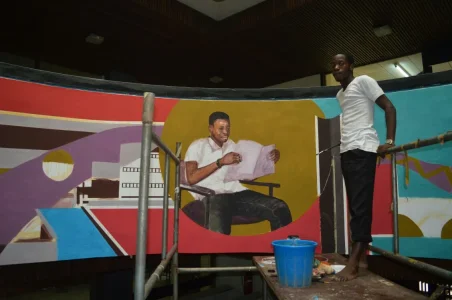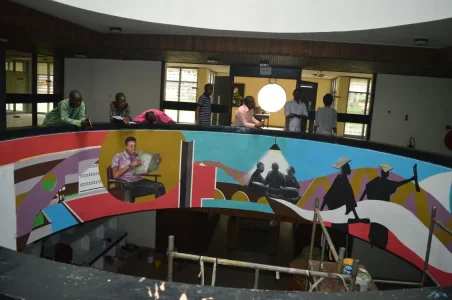 The beautification of the University Library by Pelumi.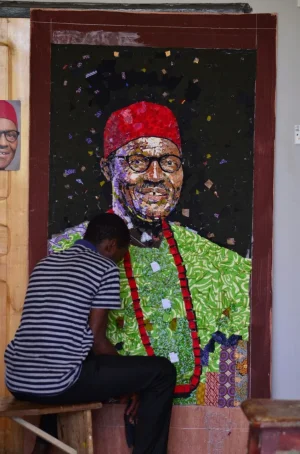 Ponmile Pelumi can be reached on
Facebook
.
Instagram:
Pelumi444
Last edited by a moderator:
[5437]