President Goodluck Jonathan could not avoid former Borno Governor and alleged Boko haram sponsor, Ali Modu Sheriff during his recent security visit to Chad because Sheriff is a powerful figure in Chadian politics. VANGUARD has this story.
After the dilemma the presidential delegation was allegedly thrown into when they arrived the Chadian capital and found that the former Borno State governor was not only in Chad but was also part of the Chadian President's delegation that came to receive the president at the airport, more facts have emerged on why Senator Ali Modu Sheriff, the former governor of Borno State was in Ndjamena, Chad during the visit of President Jonathan to the country recently.

According to Saturday Vanguard's investigations, Senator Modu Sheriff is deeply entrenched in the affairs of Nigeria's north eastern neighbour more than it is publicly known to most Nigerians. According to a senior government official who was privy to the president's trip to Chad, Senator Modu Sheriff is not only entrenched in the economic and political affairs of Chad he also exerts influence in the highest office of the land.

According to the official who declined to be named because he was not authorised to speak on the matter, 'what many Nigerians do not know is that Senator Modu Sheriff is a personal friend of the Chadian president for over ten years. He is a regular visitor to the presidential Villa in N'Djamena who does not need any special security clearance to go into the official residence of the president of Chad. He was in Chad several days before the president went and he was not only part of President Idriss Deby's delegation to receive the president but was also allowed access to the tarmac as any other top officials of that country.
Click here to read more
SOURCE: #Vanguard
#Borno #Bokoharam #Sheriff #Chad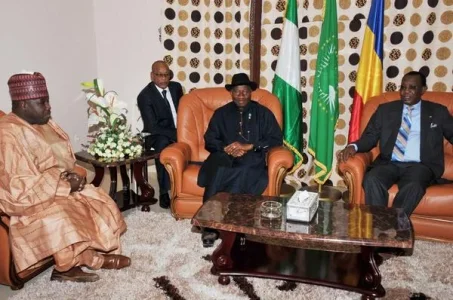 Last edited: