✅ NEW - get your business listed and your information shared across social media.
Former militant leader, Chief Government Ekpemupolo, alias Tompolo, on Monday denied sponsoring the Niger Delta Avengers, the militant group that has claimed responsibility for a series of attacks on oil and gas facilities in the Niger Delta.
A statement issued by Tompolo's spokesman, Paul Bebenimibo, who is also allegedly named as one of the sponsors of the group, described the report as 'voodoo.'
He said: My boss, High Chief Government Ekpemupolo, alias Tompolo and myself was mentioned as part of the sponsors of the NDA.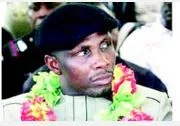 "My initial decision was to ignore the said report as a result of the source and the bogus nature of the story; however, in order to set the records straight, I decided to write to dissociate my boss and myself from that wicked and malicious report."
The statement added, "I wish to advise the Nigerian government to look for better ways to resolve the Niger Delta problem, and not to continue to compound the issue by relaying on voodoo means to resolve the issue, like this particular report which could be likened to a voodoo report.