✅ NEW - get your business listed and your information shared across social media.
Federal High Court in Lagos on Monday, further adjourned till July 14, to deliver judgment in a fundamental rights suit filed by Government Ekpemulopo, alias Tompolo.
Tompolo, who had been declared wanted since Feb. 12, 2016 by the Economic and Financial Crimes Commission (EFCC), is seeking court's protection against prosecution over an alleged N45.9 billion fraud.
Joined as respondents are the Inspector-General of Police, Chief of Army Staff, EFCC, Chief of Naval Staff and Chief of Air Staff.
1. The case earlier slated for judgment on Monday was re-slated for July 14, following the absence of the trial judge, Justice Mojisola Olatoregun, who is said to be attending a workshop.
2. At the last sitting, counsel representing the applicant and respondents had adopted their processes before the court.
3. Adopting his originating processes, counsel to the first and second respondents, Mr T.A Mofolu, had argued that the provisions of the Administration of Criminal Justice Act provides for speedy criminal trials.
According to him, the law provides that an accused has a right of appeal where he is not at satisfied with the decision of a court.
He said in this case the respondent was aware of an appeal filed by the applicant.
5. Counsel to the EFCC, Mr Rotimi Oyedepo, had submitted that the applicant in question is a "fugitive" in law and should not be allowed to seek redress from the court until he submits himself for trial.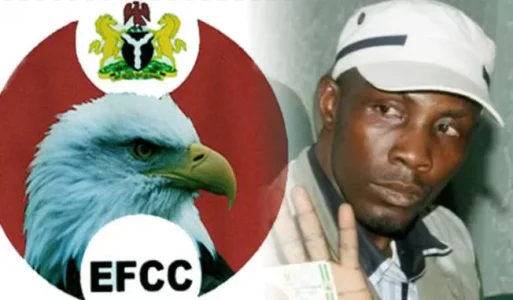 6. In response to the arguments of the respondent's counsel, Tompolo's lawyer, Mr Ebun-Olu Adegboruwa, said the application was brought in pursuant to the provisions of the African Charter of Human rights, the 1999 Constitution, as well as the inherent jurisdiction of the court.
7. After listening to the submissions of counsel, Justice Olatoregun had adjourned for judgment.
Recall that the EFCC had filed a 40-count charge against Tompolo and nine others before Justice Ibrahim Buba of the same court.
Following the absence of Tompolo in court since the arraignment of his fellow accused, Justice Buba had issued a bench warrant for his arrest and production in court.
The court had also on Feb. 19, 2014, ordered a forfeiture of property belonging to Tompolo after an application was moved to that effect by the EFCC.
Justice Buba had held that the Administration of Criminal Justice Act 2015 empowers the court to seize properties of an accused who refused to face trial.