A total of 130 bills passed first reading at the House of Representatives on Thursday, a development the Speaker, Mr. Yakubu Dogara, described as "unprecedented."
The Clerk, Mr. Mohammed Sani-Omolori, almost got tired reading out the titles of the bill to cross first reading.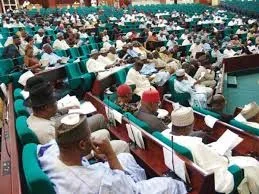 Findings by PUNCH showed that the House took the step amid rising criticisms that most lawmakers were lazy and had no bills to their names.
"There is a shift from the era of slumbering in the past.
"Members realise that the parliament has come under increasing scrutiny of Nigerians; so, they have to work harder," a senior official said after the bills passed first reading.
- PUNCH
PLACE YOUR ADVERT HERE
Connect with Politics News Readers!
[862]