Nigeria's National Drug Law Enforcement Agency on Monday said they were pushing to extradite Nigerian lawmaker, Buruji Kashamu to the United States on drugs.
Buruji Kashamu has been wanted for years in connection with a heroin smuggling operation but maintains he is a victim of mistaken identity.
The senator, who represents Ogun state in the upper chamber of parliament, claims his dead brother whom he reportedly resembles ran the international drug ring in the 1990s.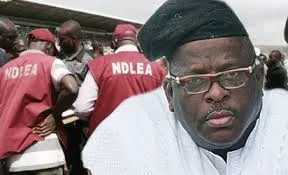 "He has a court order restraining the NDLEA from arresting him, we have also instituted a suit to vacate that order, and the process is ongoing," NDLEA spokesman Mitchell Ofoyeju told AFP.
"We'll definitely proceed with the extradition proceedings, and once the court has ruled that he can be extradited then we have no choice to enforce the court ruling."
Kashamu was reported as telling Nigeria's Punch newspaper that "there is no extradition that can be brought against me again" and that he would not allow himself to be seized.
Culled From AFP
[1113]