Governor Rochas Okorocha has said that Nigeria's economy situation top agenda at the closed door session with President Muhammadu Buhari.
Okorocha briefed journalists after a meeting between the party's governors and President Muhammadu Buhari at the Presidential Villa, Abuja.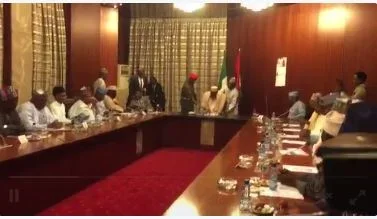 He said the All Progressives Congress has accepted responsibility for the current state of Nigeria's economy, after several months of blaming the erstwhile ruling party, PDP.
The party also promised to fix the problems.
[10002]