Maple Wood with 3 drawers and 2 doors
A former Minister of Aviation, Chief Femi Fani-Kayode, has accused the suspended Director General of the National Intelligence Agency, Amb. Ayo Oke, of covering up for the Minister of Transportation, Rotimi Amaechi.
The ex-minister on Saturday said, "He took the fall for Amaechi and when he told me he was going to do it, I warned him they would use him to cover the former governor of Rivers State, Rotimi Amaechi, and then mess him up.
"He knows the drill, that once he commits himself, that's all. We are in court soon. Wait and see what will happen. It is so easy for Nigerians to be fooled by their government. I have always known that. But for serious minded and well educated people to he fooled by this sort of cheap propaganda amazes me.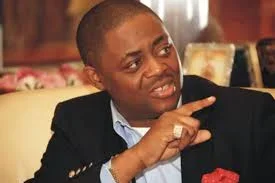 "Ask yourself why a panel from the Villa is investigating this matter and not the EFCC or the DSS. Ask yourself why the EFCC has not told you who owns the money. Ask yourself how much sense it makes for a security chief to keep $43m in a flat with no security for two years".