✅ NEW - get your business listed and your information shared across social media.
A suspected robber, Dolapo Olajiru, has been arrested by Detectives of the Federal Special Anti-Robbery Squad (FSARS) in connection to the murder of a chieftain of the All Progressives Congress (APC).
According to the police, the politician was murdered in his Lagos residence on December 1, at Agric, Ikorodu, Lagos State by 27-year-old Olajiru.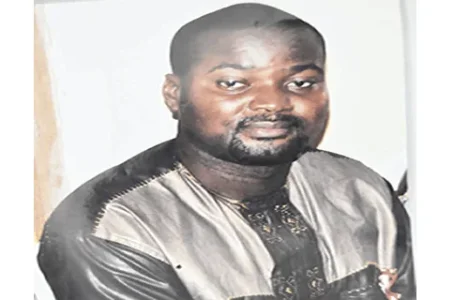 The late Nwosu
The deceased, who contested the Abia North Constituency State House of Assembly Election in 2015, was said to have been stabbed severally by his killer as he fought with the suspect who invaded his residence.
The suspect, who denied being a hired assassin, confessed to belonging to a five-man gang of robbers. The police said Olajiru and his gang members had been terrorising some areas in Ikorodu.
Olajiru said: "On that fateful night, I was walking around the street, looking for a house to rob. I decided to enter a particular house. I scaled the fence and landed on some empty crates; some of the crates fell.
The sound of the crates alerted the owner of the house. I heard a door being opened. I hid behind the crates. When he came closer, I jumped on him. We started fighting.
"The late Nwosu tried to collect my knife from me, but he couldn't. I still stabbed him in his waist and hand. It was at that point that another person came and joined him in the fight.
They overpowered and tied me up. I didn't mean to kill him. Nobody hired me to kill him. "I was only looking for a means of survival because of the economic situation in the country.
I used to be a bus conductor, but in the last three months things had been hard for me. The tough socio-economic situation forced me into armed robbery."
The suspect explained that his friend, Ayo, initiated him into robbery. He said: "We're a five-man gang of robbers. We usually search for houses to rob in our neighbourhood.
Whenever we go to people's home to rob, we target phones, money and other valuables. We don't use guns. We use kitchen knives for operations. The death of the politician was a mistake."
The suspect was arrested by policemen from Owutu Police Station and later transferred to the State Criminal Investigations Department (SCID) for further investigation.