Minister of Agriculture and Rural Development Chief Audu Ogbeh has condemned the lending rate being charged by banks in Nigeria, warning that with the development, it may be a good business ground for cocaine dealer.
Ogbeh spoke in Abuja at the 2016 Annual Conference of the Business and Professional Women (BPW) of Nigeria with the theme: "Leaders growing leaders".
He expressed concern that with high lending rate, doing business in the country would be discouraging.
Ogbeh said while there had been arguments that the lending rate cannot be lower than the inflation rate, the development was not good for the economy.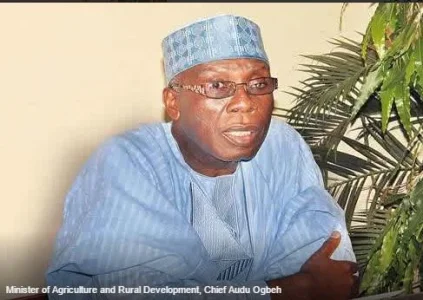 His words:
"Nigeria is a tough environment to do business in. One of the issues that I have always complained about is the outrageous interest rate, which banks charge today.

"For the last 30 years, it has become nearly impossible for small and medium businesses to survive. The interest rate has been hovering around 18 per cent to 22 per cent and now to 30 per cent.

"That kind of interest rate may be good for producing cocaine but it's definitely not for any legitimate business".
Ogbeh, therefore, urged professional and business women to embrace agriculture, adding that the ministry would make rice mills available to them in any location of their choice.
Source: The Nation Newspaper
[4756]