The Ministry of Justice and the National Drug Law Enforcement Agency have said that Senator Buruji Kashamu will not be extradited to the United States to face drug charges until all court actions in respect of his extradition are resolved.
The two Federal Government agencies indicated this position in the court processes they filed before the Federal High Court in Abuja.
Kashamu, who represents Ogun West in the Senate, had dragged the two agencies before the court on the allegation that they were planning to forcefully kidnap and extradite him to the US for trial in drug-related offences.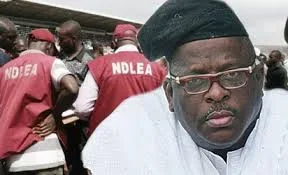 However, at the resumed hearing of the matter, Kashamu told Justice Gabriel Kolawole through his counsel, Akin Olujimi that the AGF and NDLEA have agreed not to extradite him until all court actions on the issue have been resolved.
Olujimi said that in view of the assurances from the two parties, there was no need to pursue any court action against them at the Federal High Court.
He applied to Justice Kolawole to grant him leave to withdraw the suit against the AGF and NDLEA in view of the assurances not to extradite him to the U.S. until all cases are fully resolved.
[1949]