✅ NEW - car park, swimming pool, 24 hours light/security and more.
Wizkid, Nigerian singer known for his recent string of controversies recently granted an interview to
Encomium Magazine
and below are 10 interesting things we extracted from his latest media chat:
He makes it clear that he does not care if people consider him arrogant. He insists he is not bothered
He says fame has not changed him but added that the only thing fame has changed about him is that he now has more expensive chains, wristwatches and nicer clothes
He is not getting married anytime soon
He is not expecting a second child
He presently invests his money on property and more importantly, jewelry. His explanation? "Do you know how much I can sell this chain on my neck when I get broke, God forbid? It's money and to me it's investment. I don't spend money on foolish things."
He does not love everyone and does not expect everyone to love him. "That's life," he said
He reiterates his position that he owes singer Saeon no apology over her recent outburst of being taken for granted by Wizkid. "I gave her hit song. I no try? I did my part. I was in the studio with her, gave her hit song. I no try. That's not even how much I charge for collaboration... I charge N10 million. I collected N1.5 million from her because of love. I was busy, I didn't want to do it," he said.
Wizkid maintains that he does collaborations for free for those he loves but back to the case of Saeon, he asked, "...when someone is on your neck everyday for a collaboration and she offers you money, won't you collect it?"
His biggest investment remains his gold and diamond chains. "You can always sell anything gold and diamond," he enthused
He admits that he loves flaunting his accessories on social media
Source:
Encomium
#Wizkid #Saeon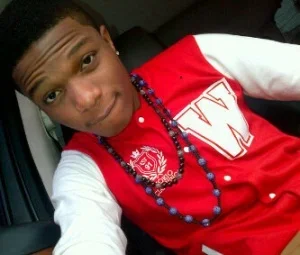 Wizkid