✅ NEW - get your business listed and your information shared across social media.
Mrs Ifeoma Mbakwe, who resides at Idow street, Alagbado was arrested last December for allegedly pouring hot water on her maid, a 9-year-old Chinwedu Precious.
P.M.News reliably gathered that the young girl's 26-year-old boss, Mrs. Ifeoma Mbakwe, who resides at Idowu Street, Alagbado, was arrested by youths of the area and handed her over to the police after the dastardly act.
The victim was rushed to REM-YEMS Hospital, Alagbado where she is currently receiving treatment.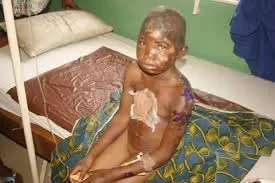 Mrs. Ifeoma Mbakwe, who hails from Anambra State, has been arraigned in court, according to P.M.NEWS findings.
An angry resident who identified herself as Mrs. Joy Sunday, described the action of Mrs. Mbakwe as wickedness of the highest order and advised relevant authorities to make sure she is prosecuted to serve as a lesson to others.
"The action of Mrs. Mbakwe is a disgrace to us who are women. How can a mother do this kind of a thing to another woman's child and at the time everyone is celebrating?" Mrs. Sunday queried.