Chairmen of 35 political parties under the Coalition of Registered Political Parties in Delta State, (CRPP) have called on Professor Pat Utomi to rescue Delta State from decades of poor leadership by running for governor in 2019.
In an open letter addressed to Prof. Utomi, signed by its chairman and secretary, Efe Tobor and Jude Eze, they begged Utomi to contest the governorship election, because he is the only candidate of hope.
The group noted that since 1999, the state has received huge allocations from the federal government but sadly, the people did not share in its wealth, rather a few who are in government live in affluence, and the rest of Deltans in misery.
The statement reads in part: "We believed that he would make the people's priorities the centerpiece of his attention when he becomes Governor. Unfortunately, in the last two years, Okowa has not demonstrated any willingness to address the issues that are of concern to the people or work for the common good of Deltans.
"Rather than recover looted state funds, revitalize our economy and fight crime, Okowa's government has been far more concerned with perpetuating a political order that benefits only a few.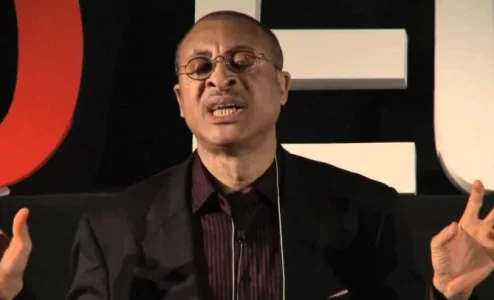 "Despite huge Federal government bailouts, Paris Club and federal roads expenditure refunds, too many groups have suffered avoidable hardship under the Okowa administration. These groups include women, youths, civil servants, students, teachers and the elderly who now bear the brunt of Okowa maladministration.
"Salaries of civil servants, especially local government workers and pensions of our seniors remain largely unpaid for months. Mothers and children lost free maternal medical care they enjoyed during the time of the last administration. Students have also been denied free WAEC and NECO enrollment and scholarships".
"Local Government workers are now being threatened with sack. All these happened at a time when Okowa appointed every known tug as aide and paid them as at when due in preparation for his reelection in 2019.
[1189]