Again, former Vice President, Alhaji Atiku Abubakar, has dumped the Peoples Democratic Party (PDP), and joined the opposition All Progressives Congress (APC). While answering questions on why he decamped to the APC, Atiku had said the PDP was Nigeria's problem. This is the same party he had been a member of, and had even served as its vice presidential candidate for eight years.
The truth with Atiku is that he wants to win the nation's top job, and with President Goodluck Jonathan showing interest in running again in 2015, his chances of achieving that in the PDP is slim.
Again, Atiku has been out of the mainstream politics for a while now, since he holds no political position, and he is not a godfather to a number of political office holders, especially governors. As a result, it will be hard to sell his candidature on the platform of the PDP.
The greatest mistake Atiku made in his political career was trying to contest against his boss, Chief Olusegun Obasanjo, while he was also eyeing a second term slot. This made Obasanjo to lose faith in him.
Click here to read more
Source: Tribune Newspaper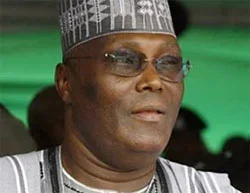 [2138]