A Bangladesh professor was hacked to death early Saturday near his home in Rajshahi city, authorities said.
Rezaul Karim Siddique, 58, was an English professor at Rajshahi University.
He was waiting for a bus to take him to campus when two or three people attacked him from behind and stabbed him in the neck , said Sadhir Haider Chowdhury, a city police commissioner.
The professor died on the spot.
Islamic States says it carried out killing of university professor in Bangladesh, jihadist monitoring group SITE reports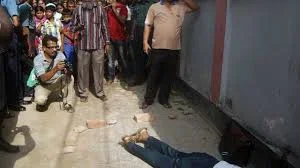 So-called Islamic State militants say they killed him for "calling to atheism" in Bangladesh.
The claim was made by IS-linked Amaq Agency, cited by US-based SITE Intelligence Group which monitors jihadist groups.
However, Siddique's colleagues earlier said that he had not written anything controversial and was not an atheist, unlike previous victims.
- CNN/AFP reports
[1127]