✅ NEW - get your business listed and your information shared across social media.
The concluding part of the of the Bayelsa Gubernatorial elections is tomorrow. The elections will hold in 17 wards & 104 communities in Southern Ijaw tomorrow.
They are:
WARD 1 Southern Ijaw Oporoma I
Wenike Community Hall PU 001
Koluama Community Square PU 002
Ogboinbiri Community Square PU 003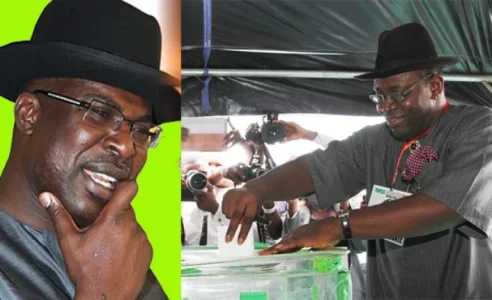 Agigbebiri Town Hall PU 004
Agigbebiri Town Hall PU 005
Korobiri Town Hall PU 006
Ogumin Polo Primary Sch PU 007
Opubiri Primary Sch PU 008
Opubiri Primary Sch PU 009
Opubiri Primary Sch PU 010
Synclair Primary School PU 011
Ayakoro Community Square PU 012
Alama Community Square PU 013
Ala-Owu Community Square PU 014
Kelsy Community Square PU 015
Seaman Community Square PU016
Fuoebi Community Square PU 017
Agidi Gbene Primary Sch PU 018
Agidi Gbene Primary Sch PU 019
Gbene Primary Sch PU 020
Olumasumu/Logi Primary Sch PU 021
Takighe Primary Sch PU 022
Laka Secondary School PU 023
Ebeleke Secondary Sch PU 024
Toruyai/Ogio Community School Square PU 025
Opuindi/Ogbuah Community Square PU 026
Ogbopolo Community Square PU 027
Perewari Community Square PU 028
Alomobiri Primaey Sch PU 029
Fiaboubiri Prinary Sch PU 030
Perealomo Primary School PU 031
Asumapolo Community Sq. PU 032
Akebiripolo Community Sq. PU 033
Burumene Comminity Sq. PU 034
Odu's Compound Pri. Sch PU 035
Akori Compound Primary Sch PU 036
WARD 2 Oporoma II
Adubabiri Open Space PU 001
Adubabiri Open Space PU 002
Isianlubo Open Space PU 003
Iyorobiri Open Space PU 009
Anyamawari Open Space PU 010
Duamabiri Open Space PU 011
Amiebiri Open Space PU 012
Ombuwari Open Space PU 013
Samwari Open Space PU 014
Osokoama Open Space PU 015
Osokoama Open Space PU 016
Igburu Open Space PU 017
Ogbobiri Primary Sch PU 018
Otuobiri Primary School PU 019
Okuta Primary School PU 020
Agbolo Primary School PU 021
Obolobiri Community Square PU 022
Oweikorogha Toru Com. PU 023
Obubarabiri Comm. Sq.
PU 024 WARD 3 Olodiama I
Samsipou Open Space PU 001
Eguewari Open Space PU 002
Olotubiri Open Space PU 004
Toborukunu Open Space PU 005 Okolobiri
Open Space PU 006
Aguo Open Space PU 007
Igonibiri Open Space PU 008
Owosopolo Open Space PU 003
Seibiri Open Space PU 004
Igaliwari Open Space PU 005
Egbedebiri Open Space PU 006
Akabawari Community Square PU 007
Iginama Community Square PU 008
Danlolopetu Primary Sch PU 009
Ikpabiri Primary School PU 010
Kumo Open Space PU 011
Opu-Kumo Open Space PU 012
Kala-Kumo Open Space PU 012
Ikemeke Primary Sch PU 013
Tamakunu Primary Sch PU 014
Ogbain Primary School PU 016
Ikebiri Primary School PU 017
Okosi Community Square PU 018
Okomo Torupa PU 019
Asoko Polo Open Sq. PU 020
Asoko Polo Open Sq. PU 021
Apuntaghe Open Sq PU 022
Sorighe Open Sq PU 023
Amawele/Dumu Open Space PU 024
Okoko-Odu Open Space PU 025
Odu-Polo Open Space PU 026
Umbu Primary Sch PU 027
WARD 4 Olodiama II
Abebiri Open Space PU 001
Aborowari Open Space PU 002
Esumie Lubo Open Space PU 003
Zuwoniwari Open Space PU 004
Akpokowari Open Space PU 005
Ikpesewari Open Space PU 006