✅ NEW - get your business listed and your information shared across social media.
Benue State governor, Samuel Ortom has boasted about 2019 governorship election in the state despite his inability to pay state workers.
Ortom said that in 2015, God asked him to resign his appointment as a federal minister and run for the Benue number one seat and he won.
In an interactive section on Radio Nigeria, 105.3, Harvest FM, Makurdi, the governor who has not paid civil servants in the state for months boasted that the people of Benue were proud of his government.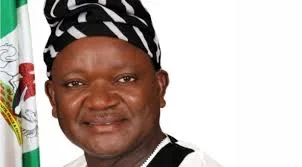 He said, "I had money before becoming Governor. I'm not interested in money making. I'm here to serve. Those who tell lies will be punished by God himself. I have a covenant with Benue people, I have a covenant with God. Failure will not be part of this Government.
"The Bible says better is the end of a thing than the beginning. I'm a leader of those who are for me, and those who are against me. When hunger came, I defeated it. When poverty came, I defeated it. When ignorance came, I defeated it," he boasted.
On the 2019 governorship election, the self-acclaimed Man of God said, "If God tells me to contest elections in 2019 as he told me in 2015, I will do same and nobody will defeat me."
- DailyPost