Elder from the Northern Elders' Forum (NEF), have claimed that the President of the Senate, Bukola Saraki, saved President Muhammadu Buhari from being embarrassed in court by the secessionist group, the Indigenous People of Biafra (IPOB), over its proscription and categorisation as a terrorist group by the Nigerian government.
Barely 24 hours after the Nigerian Army pronounced IPOB a terrorist organisation, Saraki came out to condemn the decision and labelled it unconstitutional.
The Senate President stated that only the National Assembly, had the right to such pronouncement.
The Northern Elders have now said that there is no cause for alarm in what Saraki said.
Chairman of the Northern Elders' Forum, Dr. Paul Unongo who made the statement during a press conference on Thursday, said that Saraki saved President Buhari from being embarrassed in court for following due process towards proscribing a group in the country.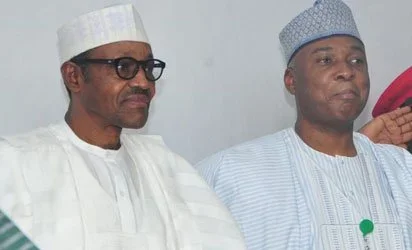 "We wish to reiterate our consistent position that there are no issues of disagreement and demands by individuals and groups in the country or anywhere in the world that dialogue cannot resolve.
"The NEF acknowledges that we, the citizens of Nigeria, are capable of resolving our issues internally.
"The North recognizes and acknowledges that there are demanding and legitimate questions on the current operations of the Nigerian State.
"The North has very clear ideas on all issues and positions that the nation sees as challenges and is willing to dialogue on all of them," he said.
PLACE YOUR ADVERT HERE
Connect with Politics News Readers!
[3570]