✅ NEW - get your business listed and your information shared across social media.
Former President Goodluck Jonathan has stated that it would be difficult for any political party including the ruling All Progressives Congress (APC) to beat the PDP in 2019
He said this on Saturday at the Peoples Democratic Party (PDP) Special Non-Elective Convention in Abuja.
The ex-president explained at the occasion that the party had internal crisis because it lost power in 2015, adding that the PDP remained the largest party in Africa.
He urged party members not to be intimidated or distracted by anyone, saying former Presidents Olusegun Obasanjo, Musa Yar'adua and himself (Jonathan) "all performed well" despite the various challenges they had.
He said there was need for the PDP to reclaim power "because of poverty and hunger in the land" and urged party leaders, elders and stakeholders to return to their various states and mobilize the electorate at the grassroots ahead of the 2019 polls.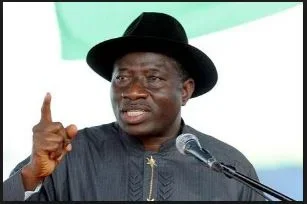 "As a party that heralded Nigeria's return to democracy in 1999, the PDP had become so accustomed to success in its 16 years in power that the first time our fortunes changed at the polls, it was obvious that the party would suffer the aftershocks of the loss. It was in deed a most trying period for us as a political party.
"However, it is not an experience that is peculiar to us. This because all over the world, any party that loses election at the centre as we did, will first of all, struggle to hold together, before regaining its composure to effectively present the strong voice of the opposition, and resume the contestation to return to office.
"There is no gainsaying the fact that our disposition in freely handing over power to the opposition, after the 2015 polls, helped to deepen our democracy, and project our country as one of the world's stable democracies".