✅ NEW - car park, swimming pool, 24 hours light/security and more.
The attention of the whole world will shift to Spain this weekend when European champions, Real Madrid file out against their bitter rivals, FC Barcelona in the first El Classico match of the 2014/15 season in the Spanish La Liga.
Currently, the squads of these two teams will make it difficult to predict who will win, but Luiz Suarez may turn out to be the game changer if he would be properly fielded.
With both teams firing on all cylinder, goals have been coming aplenty for the two clubs and they both got three goals apiece in their Champions league games during in the midweek.
The Galacticos were more convincing, because they were able to keep clean sheet at Anfield, and grabbed their first European victory against Liverpool on Wednesday night.
Both teams will be going into this encounter with confidence having won their champions league games, and with the kinds of players these two teams parade, the coaches might be determining who wins or loses with their team selection on the day.
While Real Madrid added the likes of James Rodriguez who won the highest goal scorer and the best goal at the Brazil 2014 FIFA world cup, Javier Hernandez from Manchester United on loan, Toni Kroos from Bayern Munich and goalkeeper Navas, to the squad that has Cristiano Ronaldo and Gareth Bale, Luca Modric amongst others.
Barcelona on the other hand added Luiz Suarez from Liverpool, Ivan Rakitic, Jeremy Mathieu, Claudio Bravo, to the team that already parades a Lionel Messi who has won the world footballer of the year four times, and Brazillian superstar, Neymar.
The Catalans will be looking forward to including their biggest summer signing, Luiz Suarez to their attack, Real may have suffered a set back with Wales' Gareth Bale unsure to feature for the European champions on Saturday.
Real Madrid must take into considerations the fact that their opponent are going into the game unbeaten in the Spanish liga this season after eight games and not having conceded a goal, with the Classico making it ninth of the season.
This game might simply mean more to Lionel Messi and his teammates as the four-time world footballer of the year hopes to break the la liga all time goals record, most especially achieving that at the El classico would create a rich record for him, but there will be no taming Cristiano Ronaldo who finds it difficult to play a game without scoring for his side.
As early as the season may seem, this game might be making a statement as regards who wins the title at the end.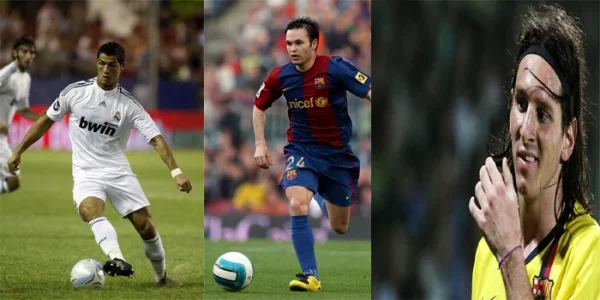 Last edited by a moderator: