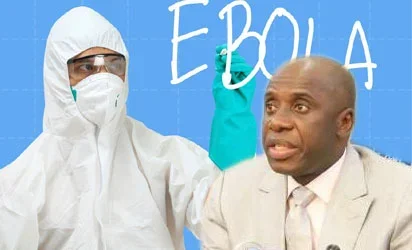 "Please no more handshake, keep your hands in your pocket until we contain the disease".
The foregoing were the words of Governor Chibuike Amaechi in Government House, Port Harcourt four days after the first death was recorded from Ebola virus in the state.
Though it is not in any law book in the state but it is now like a taboo to shake hands in Government House, Port Harcourt. This new culture that came with the first recorded case of death from Ebola virus is gradually becoming the norm in several parts of the state.
The whole of last week, friends, colleagues and business associates who ordinarily would shake hands as part of their greetings and exchange of banters merely waved or cup their right fist in the air, saying " I greet you in Jesus name" or " Ebola greetings".
Click here to read more
Source: #Vanguard